I have been out and about again today in Shawbirch, Telford, Shropshire, whilst the Councillor for Muxton I have been lending a helping hand to candidates in other wards over these last weeks.  Shawbirch is where I have been helping the most and it is where there is a siting Liberal Democrat councillor Bill Tomlinson,
Bill is a nice guy and is clearly well liked locally, but I don't think his residents realise that is voting record is very left wing, I can't remember for example him ever supporting a significant decision or voting for us in the Conservative party on any Budget whilst we were in Administration, and I mention that because at the time nationally we had a coalition between Conservatives and the Liberal Democrats so you would have thought there would be some effort to support a joint Government.
Unfortunately he always exclusively supports Labour and props up their current minority administration (as Telford and Wrekin is No Overall control at the moment).  Funnily enough when his voting record is mentioned to residents they are somewhat taken aback!  Clearly he doesn't mention to them how he actually votes on their behalf.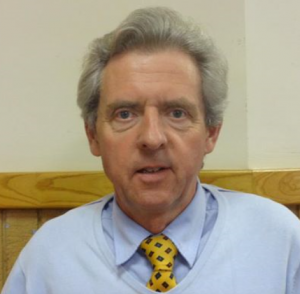 In 2019 the Conservatives can win back control of Telford and Wrekin Council, but to do so we need to knock out the Liberals and return areas like Shawbirch back to the Conservatives where they rightfully belong.   For this reason I am sparing as much time as I can to help our great local candidate Anthony Lowe, Tony is currently the Deputy Major of Wellington Town Council and he is out and about as much as he can at the moment so as many residents as possible meet him before the election on 2nd May 2019.
Bill has tried to take credit for the toilet roll planning application being pulled, but whilst it is off the table pre-election there is every indication that it will be back on again post election and if not this application then another.  Tony is and will campaign for the local plan to be re-drawn so it excludes this site, hopefully if we win that can happen quickly but there is the risk that the application will be too far progressed by that time to stop it.
Tony will work for the redrawing of the development areas within Shawbirch and seeing him in action today and over previous weeks on the doorstep I am certain that he will make a great borough Councillor, he listens to residents and fights for issues he believes in, which is great.  He is also his own man so doesn't just follow a national policy line and I feel because of that he will put residents first at all times.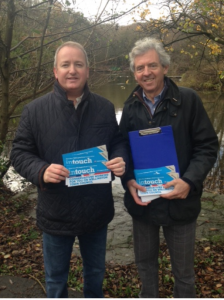 Mark Pritchard our local MP for the Wrekin, has also been out supporting Tony Lowe, this picture was taken on another day I was out helping shortly before Xmas 2018.
Mark has also kindly tweeted his support for Tony so not only is the campaign running on the ground, but also across social media Twitter, this blog and of course no end of other places to.
I am confident that Tony Lowe will make an excellent difference to the Council, Bill as a retired Accountant has always been articulate and contributed to debates and has made many good points over the years, but when it comes down to actually voting, his socialist traits come to the fore and he doesn't seem able to support anything other than Labour policies and his personal views seem to me to be actually pretty far left of centre even by the standards of the Telford and Wrekin Labour party!
So with all that in mind, If you live in Shawbirch and are reading this, then please take note and if your inclination is to Vote Conservative Nationally then please also vote locally for Anthony Lowe your Conservative Candidate for the Shawbirch ward of Telford and Wrekin on 2nd May 2019, if you don't have a post vote and know you might be away for any reason please contact the Telford and Wrekin Council democratic services and request a post vote ASAP.