Telford and Wrekin performs badly on the Royal Society for Public Health 2018 Healthy of the high street report.   This interesting report combines factors known to perpetuate an unhealthy lifestyle and then ranks Local Authorities accordingly.
Telford as the town where industry began ought to be the richest town in the UK / Rest of World because we have had the longest period of industrialisation anywhere, but sadly the policies of the Council and certainly those of the Labour Administration for the last 60 odd years have held back the town and kept it's standard of living and health far lower than it rightfully should have been.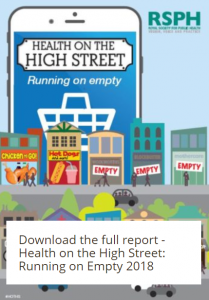 Looking at each of the measures the report draws upon, we can see at each and every opportunity the Council has allowed planning application after planning application to go ahead without an holistic view of the impact these applications have on residents health.  The culture of the planning team and certainly our officers plus some councillors on our plans board needs considerable re-education.
We need Healthy food outlets not endless fast food ones, Wellington centre needs to follow the model of Ludlow and Shrewsbury and create an enticing and attractive tourist venue,  but shop after shop of charity, pawnbrokers, gambling and fast food doesn't take is in the right direction.   That only keeps these borough towns in a circle which needs breaking, if action is not taken soon Telford will move even further down the league table.   We need to place our high streets into "Special Measures"
Of course it is not easy to have a robust Town Plan that projects forward a long term vision, but Labour have just gone for the easy route of as much development of housing as they can, focused narrowly into small numbers of wards such as Muxton, then hardly given a thought to the quality of the offering on the high street.
The internet means that more and more shoppers use the online channel as their preference, I personally buy things from ebay each and every week, grass seed, wifi booster almost everything because the high street is not as convenient.  The future of highstreets is becoming clearer as a destination for entertainment, meals out and for niche shopping.   Telford needs to learn from the RSPH report and quickly change so we begin the slow process of catching up with Shrewsbury and other exemplars highlighted in this very interesting report.