GrantThornton the international Accountancy Firm produce league tables for each Council Area in the UK.
Telford and Wrekin's can be found here
Introduction
Places are complex and have an intrinsic impact on the people and businesses within them. Economic growth doesn't influence all of the elements that are important to people's lives – so Grant Thornton don't use GDP to measure success.
Instead they set out to create another measure for understanding what makes a place successful. Their Vibrant Economy Index uses data to provide a robust, independent framework to help everyone understand the challenges and opportunities in their local areas. They  want to start a debate about what type of economy we want to build in the UK and spark collaboration between citizens, businesses and place-shapers to make their places thrive.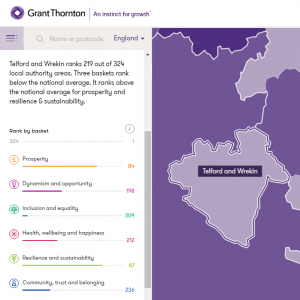 Looking at their metrics in turn
The Prosperity index for Telford is high, our standard of living is good when salaries are compared to the cost of living, which shows that business is a success here and while the Council constantly refer to the borough being amongst the poorest that doesn't reflect the quality of life that a lower cost area enjoys.
Inclusion and equality are very low – The current Council certainly is not inclusive constantly criticising central Government and overlooking that Conservative voters now make up the majority in Telford and Wrekin.  Most of the social issues and feeling of isolation are a results of the failures of previous Labour run administrations to shape the borough in a more positive way.
Community, Trust and Belonging – are also very low as, which should be no surprise given the administration favours only a section of the community and has ignored the issues of CSE until under the national spotlight.
Hopefully a change of administration in May 2019, will allow these issues to finally begin to be tackled.